Testimony
My life has been changed
My life has been changed since 2009 when I came to US and received Lord. A family provided me with hospitality right after I get to this country. I was fist time brought to a Friday home meeting, where I was touched by the saints in Corvallis around me and their words talking about Lord. Educated with non god theories, it was a hard process for me to believe god exists.
With time going on and after several meetings I attend, as well as certain circumstances happened to me, I found out that God's life has get into me and my life has got into a new realm that I would never thought so wonderful. Receiving Lord and living in a divine life become my best experience so far. I give thanks to God for selecting me and providing me with this life.
H.Z.
Back to Table of Content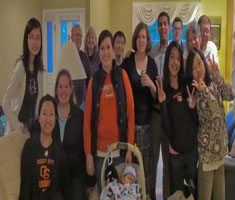 The Holy Word for Morning Revival is Cooperating with the Heavenly Ministry of the Ascended Christ.
Week 14 : Coming Soon!.
Calendar