Testimony
Christ Is Life
After my husband and I were married we moved to San Francisco. My brother-in-law's friend invited us to the local church meeting. At the meeting a Christian sister in the Lord spoke about the riches of Christ. Her speaking touched my heart in such a way that I realized this was a place where I could enjoy Christ with other believers in a real way. My husband and I are still here after five years. Christ is really life!
S.L.
Back to Table of Content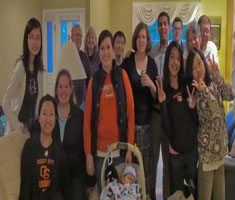 The Holy Word for Morning Revival is Special Fellowship Concerning the World Situation and the Lord's Move Week 3 : Spreading the Divine Truths and Seeing a Vision of the World's Ultimate Situation, God's Ultimate Move, and the Lord's Ultimate Recovery.

Calendar